You may have noticed that my focus is always on the overall scheme of things. People and institutions are studied according to how they function and not how they are defined. Numbers are fine and have their place. I look at the forces in nature that make the numbers what they are. Everything is observed in the light of reality as opposed to looking through the prism of fantasy. With that said, there is something I notice in the current time frame that may prove to be significant.
There are many alternatives to liquidating stocks. A look at the chart below shows a completely heavy level of hedging since any stock market turbulence began.
That means more than the fact that folks are hedging rather than selling. There are huge profits for anointed writers, if hedges expire worthless. Because this activity is so profitable, efforts will be ongoing to take indexes sideways until the hedging activity settles back down.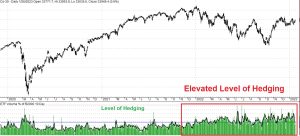 I may be unique in noticing that since 2006, stocks have not just been elevated by policy in a general, but manicured and manipulated on a second by second basis.
I have also conjectured that when the market is going to be heavily elevated, notice of that is networked out so that large sellers will pull their bids and wait for ensuing higher prices.
I don't see the market moving in either direction until the hedging dies off. hedging is expensive and over time eats away at profit.
The basic trading pattern I often allude to is still being used but it is much less productive than at times in the past. The trading public has been trained to buy on news. That is not working as usual.
Everything that can be done to support the averages is being done. None of it is working as well as it needs to.
Hits: 58